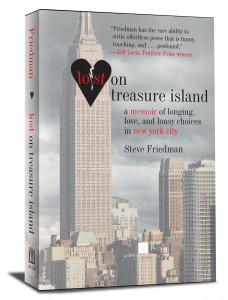 Lost on Treasure Island: A Memoir of Longing, Love and Lousy Choices in New York City
"
Lost on Treasure Island
brilliantly limns one Midwestern man's seriocomic struggles with success, sex and spiritual development in Manhattan. Kind of a
Bright Lights, Big City
without the drugs, a
Pilgrim's Progress
without the progress, a
Portrait of the Artist as a Young Man
without the art or the young man. It is one man's down-and-dirty account of his battle with demons within and without. Brutally honest doesn't begin to describe it. This is a spiritual strip tease that sears the soul and tickles the funny bone. Friedman writes like an angel going to hell on a Harley."
— Jeff Leen, Pulitzer Prize winner and author of  Kings of Cocaine and The Queen of the Ring
"I love
Lost on Treasure Island
. It's the truest, funniest, sexiest big-city adventure story I've ever read. As a hero, Steve Friedman is wildly flawed, but as a writer, he's in a class with Nick Hornby at his best and Candace Bushnell in her dreams."
— Christopher McDougall,
author of
Born to Run: A Hidden Tribe, Super Athletes, And the Greatest Race the World Has Never Seen
"NOTHING SEEMS BENEATH HIM…"–The Associated Press
"I should probably hate Steve Friedman, and, in turn, this book. So I'm embarrassed to admit how much I LOVED
Lost on Treasure Island
, and, by the end, its hapless, hopeful, utterly hilarious narrator. I laughed, I cried, I flung it to the floor and snatched it up again. It's
The Devil Wears Prada
meets
A Million Little Pieces
meets
Lolita
. Fantastic."
— Cathi Hanauer,
author of
Sweet Ruin
and editor of
The Bitch in the House
"ONE OF THE MORE IGNOMINIOUS CAREERS IN MAGAZINE LORE…"–The Wall Street Journal
"
Lost on Treasure Island
is the story of every Midwesterner who has ever come to the Big City to follow a dream. I read it with both jealousy and gratitude: jealous because Steve Friedman is a truly gifted memoirist, and grateful that I have never personally auditioned for the role of Mrs. F. This is a fantastic read."
— Sarah Rose,
author of
For All the Tea in China
"Steve Friedman is a toxic cad and a fabulous writer."
— Meghan Daum, Los Angeles Times
columnist and author of
My Misspent Youth
and
The Quality of Life Report
"After finishing this sometimes infuriating, oft funny, and truly touching memoir, I'm amazed there's not a line of ladies volunteering to be Mrs. Friedman.
Lost on Treasure Island
is chest of wonders indeed."
— Shari Goldhagen,
author of
Family and Other Accidents
"An unvarnished reckoning of the realities of following one's dreams to make it as a writer (and fully formed adult) in Manhattan. Through highs and lows, Friedman's caustic charm steals the show."
— Thomas Kohnstamm,
author of
Do Travel Writers Go to Hell?
"If…I turned into the Steve Friedman as revealed by Steve Friedman, I would want to write a memoir as affecting as his."–
Steve Weinberg
,
St. Louis Post-Dispatch
"Those in search of a funny, engrossing book that will make them at varying times want to high-five, smack, or hug its narrator should read Friedman's Lost on Treasure Island." * Read the complete Diary of a Disillusioned Dater review *